We Get Your QuickBooks Recurring Payments
PAID!
ReliaBills doesn't replace QuickBooks. We sync to QuickBooks and give you a ton a features designed to get invoices paid.
QuickBooks Recurring Billing with 2-Way Sync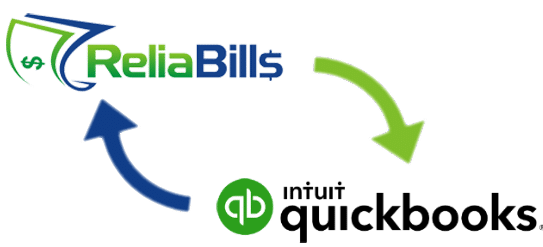 Create an invoice in QuickBooks…it will sync to ReliaBills. Take a payment in ReliaBills…it will sync to QuickBooks. If a customer updates their information in the customer portal…it gets updated in QuickBooks. You get the picture.
What we Sync:
✓ Customers
✓ Products/Items
✓ Tax rates
✓ Invoices
✓ Payments
No more
collections
calls!
Just What Does ReliaBills Do ?
Whether you create your invoices in ReliaBills or sync them over from QuickBooks, let us take it from here !
✓ We'll send your invoices via email or snail mail based on the customer's mail preference.
✓ We'll automate your QuickBooks recurring invoicing for customers who pay you on a continuous basis.
✓ We'll track if emails have been delivered, opened, viewed. We'll even let you know if the email bounces. (Because customers can't pay an invoice if they never get it.)
✓ We'll schedule and send very customized , personalized automated payment reminders to customers who are late.
✓ We'll automatically apply scheduled late fees.
✓ We'll retry failed payments automatically based on the reason for failure.
✓ We'll give you a customer portal so customers can manage their account themselves.
✓ And more !