Payment Processing
Payment Types
Go to Account Settings (the White gear in upper right) and then Payment Processing. In this section, you will find the payment types and cards currently active on your account. All accounts (FREE and PLUS) are "Active" for Checks, Cash, and Other. That means you can record payments that have been made using these methods.
Accounts that have upgraded to Plus can also accept and record credit/Debit card payments and Bank Debits. Click the word "Active" on the right side to the page for more details. Here, you can turn the payment method ON or OFF. And in the case of Credit Cards, you can even select which cards you want to make available to your customers.

Payment Policies
Most clients come here once…make changes…and might never need to come back.

Standard Payment Terms. Use the drop down to select your standard invoice payment terms. If your invoice payment terms are generally the same for all invoices and customers, this will save you some time when creating invoices. You can always change the due date on any invoice and you can change your standard terms at any time.
NOTE: Changing default terms will NOT change any invoices already generated.

Allow Partial Payments. Some businesses require payment in full and will not accept anything less. While others will take any payment. This setting will define whether or not you will allow partial payments. The default setting is True. If you do NOT want to allow partial payments, change the setting to False.

Automated Payment Retries
If a customer is enrolled in auto pay, and an invoice is due or past due, the payment will be automatically processed. Payments are declined for many reasons (Insufficient funds, closed account, invalid account number, etc.). When a failure is received, you and the customer will be notified. Then, based on the type of payment and the type of decline, ReliaBills will automatically re-submit the payment in accordance with the financial industry and card associations regulations. Here, you can modify the re-attempt process based on your needs.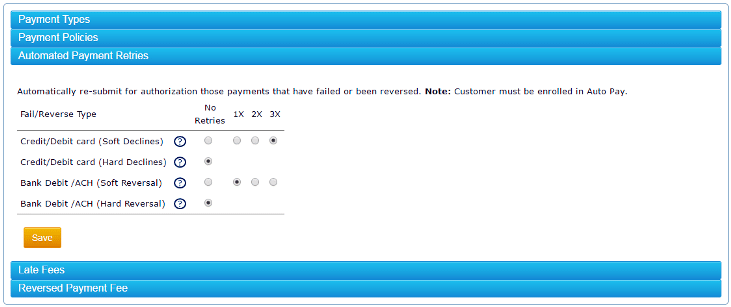 Late Fees
To find Late Fees, go the Account Settings (white gear in upper right of every page). Then Payment Processing…then Late Fees.
Late fees do help get invoice paid. With ReliaBills, late fees can be automatically calculated applied to invoices that are past due. The option to automate late fees is ONLY available in PLUS accounts.
To have late fees automatically applied to past due invoices, start by sliding the late fee selector from OFF to ON.
Next, select whether you want the fee to be applied as a percentage of the open amount, a fixed dollar amount, or the greatest amount of either the fixed amount OR a percentage.
Lastly, select the Grace Period. This is number of days past due until the late fee is applied. For example…if the grace period is set to "6" days, and an invoice was due on the 1st, the late fee will be automatically applied at midnight on the 6th.
A few important things to know about late fees:
Late fees are applied ONLY when the number of days past due equals the grace period. So if you turn late fees to ON, a fees will not be added to all your past due invoices. The fee will ONLY be added when the number of days past due EQUALS the grace period.
Late fees are NOT applied to late fees.
Percentage late fees are calculated ONLY on the open balance. NOT the original invoice amount.
Recurring late fees may be used ONLY when the late fees is a fixed dollar amount. Recurring percentage late fees are considered finance fees and must be managed according to state by state financial regulations.
BEST PRACTICE: If you are going to use late fees, it is best to set up an automated email the 1 day before late fees are applied. The email should be a reminder to customers about the late fee.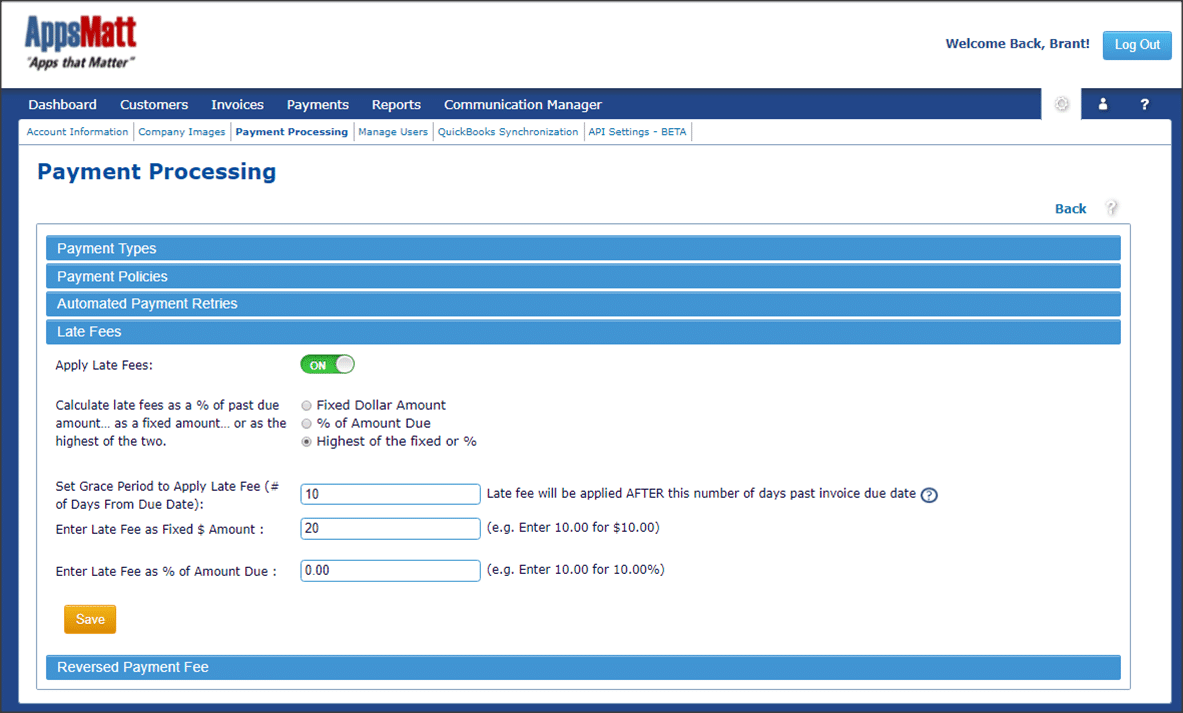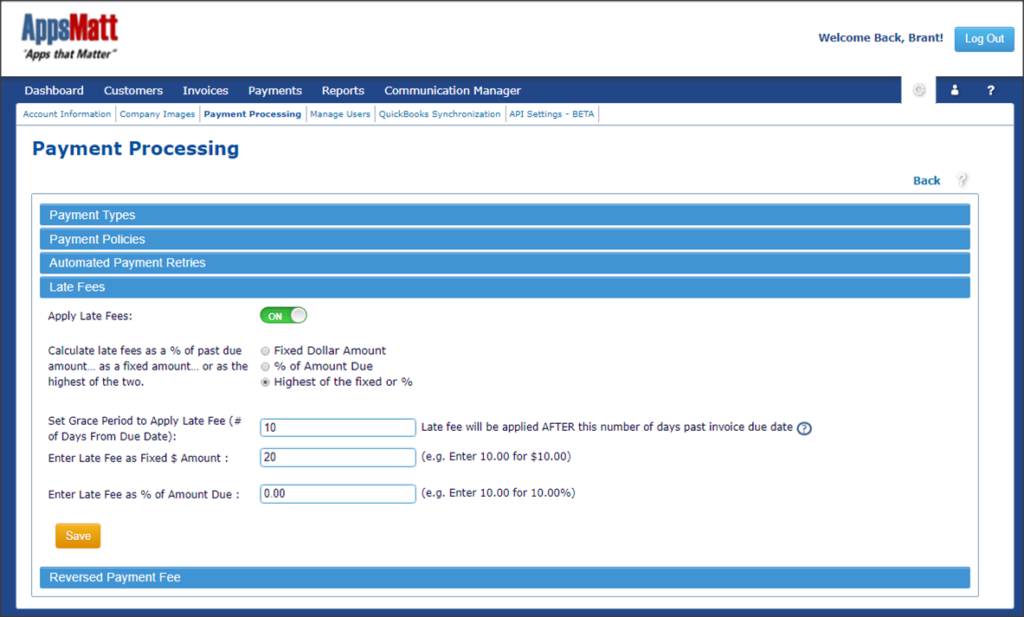 For more on late fees, visit our blog article https://www.reliabills.com/blog/late-fees/
Reversed Payment Fee
When a payment is reversed, ReliaBills will re-open the invoice and can automatically add a fee to the open invoice. The fee will be labelled "Reversed Payment Fee" and the date. If the reversed payment had been applied to multiple invoices, the fee will be applied to only ONE of the invoices.

Currency Options
At this point, ReliaBills can support currency displayed, transacted and settled in USD only.