Customer Statements
Overview
With a single click you can send one, some, or all customer a personalized statement of their account. We consider statements to be a form of reporting. That's why you'll find our customer statement functionality under the Reports tab. Then scroll down to the Customers section to and click on Customer Statement.
Statement Set Up
Before you can begin sending statements, there are just two simple set up steps:
Define Statement Creation. You can have statements created based on Invoice Due Date or Invoice Create Date (default).
Select a Statement Format. We have two options. An Invoice Status statement shows individual invoices for a defined period. Original invoice amount are displayed. No subtotals or specific payment detail is shown. Whereas, a Transaction Summary statement shows individual invoices and individual payments in chronological order for a specified period. Any invoices and/or payments recorded prior to the defined statement period are shown as the 'Balance Forward'. A current balance is calculated and displayed.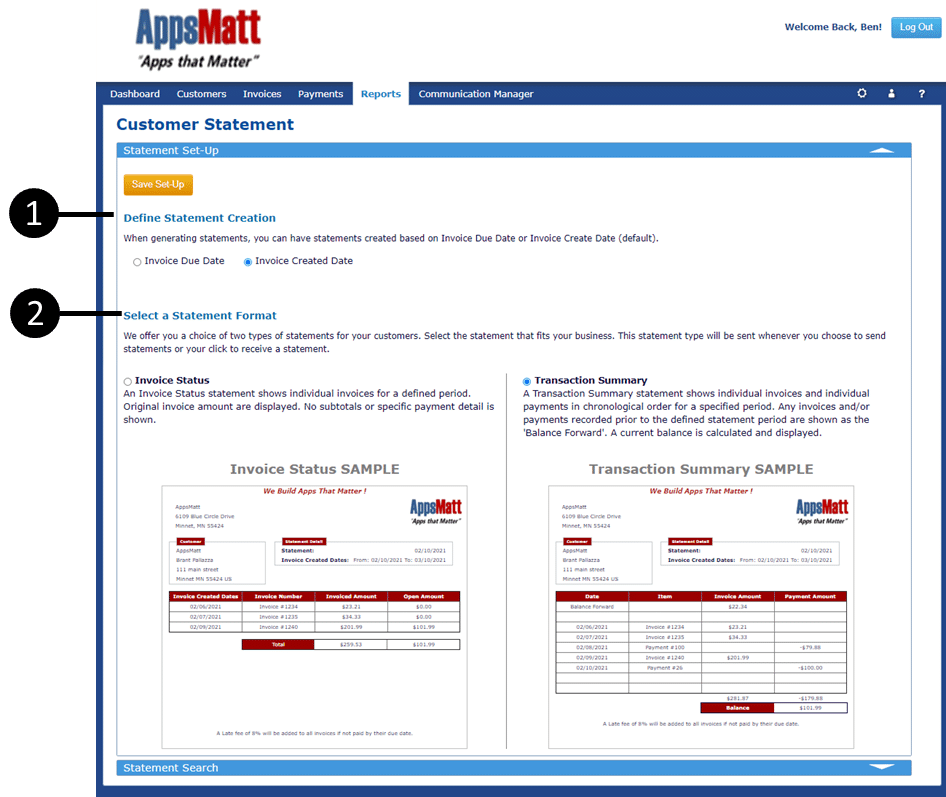 Statement Search
Now that you have set up your statement formats, you are ready to send a customer statement. If all you want to do is send a single statement to a single customer, use the search criteria to find the customer and be sure to select the proper time frame.
If you see the customer listed, you can View and print their statement or have it send via email with a single click.
To send statement to all customers, expand the number of items per page to ALL and then use the Batch feature to select all. Click the Batch arrow to send all or print all.