Send Invoice
Deliver your invoices with an awesome, personalized messages…with just a click !
When you've complete an invoice and are ready to send it to the customer, just click the Save & Send Invoice button.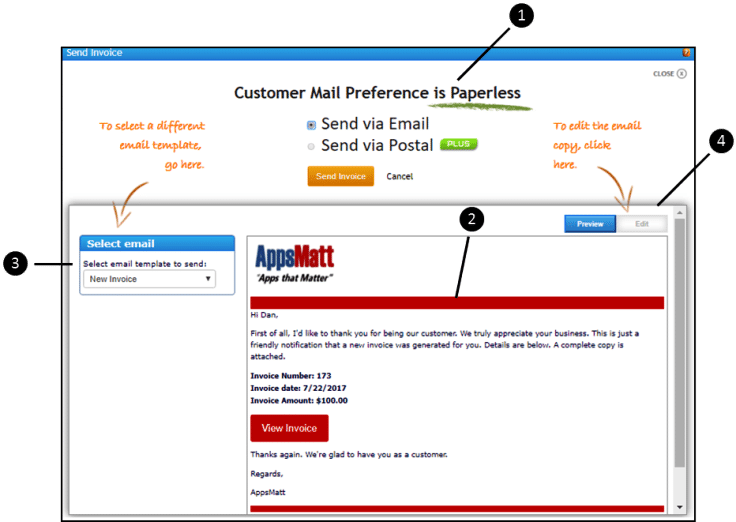 Mail Preference:The first thing we do is show you the customer's current mail preference (paperless or postal). Just click the Send Invoice button and we'll send your emails for FREE. But we'll also print, fold, insert and mail your invoices. Just upgrade to PLUS. Pricing and terms do apply.
Email Message:The New Invoice email template will be displayed (all your email templates are all located in the Email Manager). If you like the way it looks and you like what is says, just click the Send Invoice button.
Select an Email: If you want to send one of your other email templates (past due reminders, late fee reminders, etc.) just use the drop down to select the email that you want to send.
Edit an Email: If you've selected an email template but the message isn't quite right, just click the Edit button to make changes. IMPORTANT: any changes that you make will apply to this individual email ONLY. If you want to make changes to the template, go to the Email Manager (located at Communications Manager=>Email Manager).
Send Invoice: When all is exactly the way you want, just click the Send Invoice button.