Create New Invoice
1. Select A Customer
If you haven't created them yet, go to the Customers tab and create the new customer. The drop down shows only Active customers. So if you don't see the customer you created, search for them in Customers and make sure their status is "Active".

2. Create Invoice
Click "Create Invoice" to start filling invoice data for the selected customer.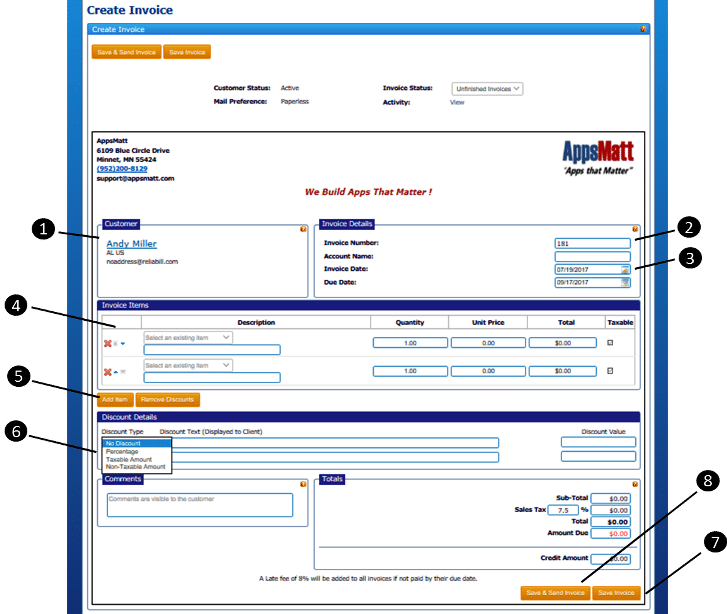 3. Confirm Customer
It's always a good idea to make sure you have the correct customer.
4. Invoice Number
This number, by default, starts with 100 and increments itself by 1 every time you or the system generates a new invoice.  You can change the start number by going to Invoice Set Up. You can edit this number as long as the number you entered has not already been used.
5. Invoice date
The system will automatically generate this for you upon the creation of the invoice. You can edit this date. Due Date: This date will automatically be the same date as the create date unless you have defined your terms in Account Settings. Go to Account Settings=>Payment Processing=>Payment Policies. Edit the date at any time.
6. Invoice Items
Items can be manually entered here. Or, to save time, you can pre-create products by going to Invoices=>Invoice Set Up=>Manage Your Products Pre-created products will be displayed in the drop-down and can be added with a click.
7. Add Item
Click the Add Item button to add more lines. Click the red X to delete lines. Arrange the order by clicking the blue arrows.
8. Add Discounts
ReliaBills supports THREE types of discounts:
A Percentage Discount is applied to the invoice sub-total. Enter the percentage as a whole number (for example, enter a 15% discount as 15).
A Taxable Amount is entered and displayed as a dollar amount (for example, use 5 for $5.00) and is applied at the sub-total. Taxes are applied AFTER the discount. It is because this discount affects the taxable amount that it is called a taxable discount. This is the most common type of discount.
A Non Taxable Amount is also entered and displayed as a dollar amount (for example, use 1.5 or 1.50 for $1.50). However, this discount is not applied until AFTER taxes are applied. Because this discount does NOT affect the taxable amount, it is called a non-taxable discount.
9. Save
To save your invoice (without sending) click the Save button. You have the option to save as Open or as Unfinished. An Open invoice can be billed and or paid. It will show up in all reporting including revenue reports. An Unfinished invoice is a draft. It cannot be sent to the customer. It cannot be paid. It will not show up in any revenue reports.
10. Save & Send
This button simply combines two steps. It saves the invoice as Open and launches the emailer (see Communications Manager=>Email Manager) so that the invoice can be sent to the customer.